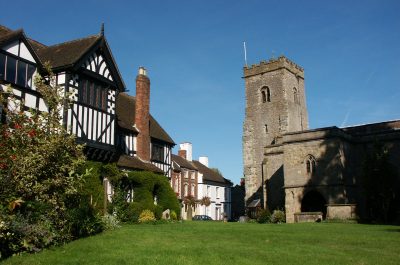 Much Wenlock is a town in miniature, filled with black-and-white houses, friendly traditional pubs, a good range of individual shops, and one of the most impressive sets of monastic ruins you'll ever see. In the care of English Heritage, Wenlock Priory's serene and majestic remains are an unmissable, unforgettable sight.
There is history at every turn – the magnificent Guildhall with its whipping post, the lovely Holy Trinity Church and Dr William Penny Brookes, who was instrumental in founding the modern Olympic Movement. The town's fine Museum houses an impressive collection of Olympian memorabilia as well as a wide range of exhibits dealing with Wenlock's history, geology and natural environment.
The Farmhouses on all the main streets convinced Mary Webb, the Shropshire novelist, that Much Wenlock was a Rip van Winkle of a place, "Somewhere in the Middle Ages it had fallen asleep" she said. Astonishingly, one working farm survives at the heart of this little gem. Where else can you find the rustic charm of a village with the fine buildings of an important historic centre?
The half-timbered Guildhall and the Priory Ruins with the exotic topiary are best known. But there's so much more. Even the great architectural historian, Niklaus Pevsner, not a man to be lost for words, had to fall back three times on 'picturesque', with a 'great charm' thrown in for good measure.
One man who never slept was William Penny Brookes, local doctor and a pioneer of physical education, and was considered as 'the King of Wenlock'. His Wenlock Olympian Games, which inspired the modern Olympics, are still held every year, try the Olympian Trail. Dr Brookes would approve.
The story of Brookes and his Games is told in the Museum. The museum's dramatic model tells how the fossil beds of Wenlock Edge were formed as coral reefs. You can explore the real thing from the town or the car parks off the B4371 road. The National Trust owns 550 acres, concealing nine kinds of orchids. There are paths and ways for walkers, cyclists and riders.
For more information about Much Wenlock, please visit http://www.visitmuchwenlock.co.uk/
---
Share with