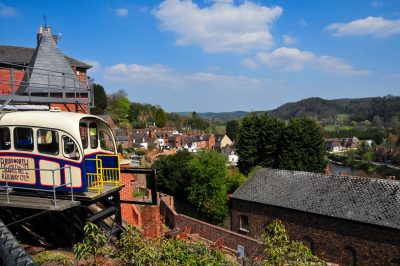 "The finest view in all my Kingdom" – Charles I
Whether you admire the view over the king's shoulder from the sandstone cliff of Bridgnorth, or stand on the bridge below, (at the height of summer the Severn is almost covered by the flowers of water crowfoot) you won't have to look far to find a superlative in the Severn Valley.
Like the King, most of our visitors can't restrain themselves.
Bridgnorth was once one of the busiest river ports in Europe, but nowadays, the Severn, clear and unpolluted, is a quiet haven for anglers, walkers and wildlife. The river divides the town into High Town and Low Town, the two being linked by seven sets of ancient donkey steps and a Victorian funicular, the Bridgnorth Cliff Railway.
"If you approach the High Town by the cliff railway you feel you are being lifted up to heaven." – John Betjeman
The oldest and steepest inland funicular railway makes the heavenly journey at least 150 times a day. In 1892, when it opened, the entrance was watched over by a temperance restaurant and refreshment house.
Just as rewarding for the pilgrim is the ancient Cartway, one of Shropshire's most interesting streets which leads down to the flower-filled Quayside, the cliffs and caves of Lavington Gardens and on to Severn Park.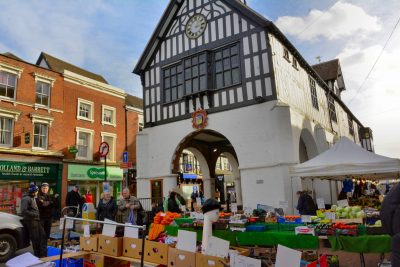 Whichever route you choose to the top, you can enjoy King Charles' 'finest view' from Castle Walk, before checking out another of the valley's superlatives, the Castle Keep that leans at an impossible angle greater than the Tower of Pisa.
History abounds in Bridgnorth. Thomas Telford's church of St Mary Magdalene sits grandly next door, while the timber-framed Town Hall set on high brick piers, interrupts the traffic flow in the High Street. The redundant but revered St Leonard's Church set in its own cathedral-like close provides calm away from the hustle and bustle of the town.
The medieval Northgate, which houses the Northgate Museum stands guard at one end of the High Street whilst the Italianate splendour of the New Market Buildings stand at the other.
18th century writers compared Bridgnorth's spectacular setting to old Jerusalem, or even Gibraltar.
Who are we to disagree?
---
Share with